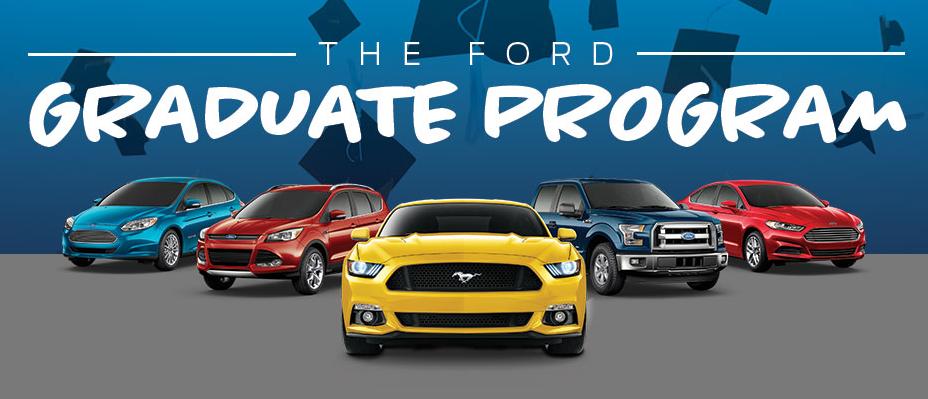 When defining the college experience, many factors come to mind. In college, some study full time, some work full time, and almost everyone becomes way too familiar with the taste of every fast-food restaurant within a 5-mile radius of the dorm. The college experience is an epic one! It takes a lot of persistence, determination, and a student must be driven! Because of all these admirable qualities a student must exemplify, the Ford Motor Company felt it their responsibility to give back. Ford Drives U is a rebate program that helps college students welcome a new Ford vehicle into their lives. This program allows the students a $750 bonus cash incentive toward the lease or purchase of eligible new 2017/2018/2019 Ford vehicles, valid only until August 31,2018. Not available on the Focus RS. Here's who's eligible:
· Current students of an accredited 4-year college/university, trade school, junior college, or community college who are enrolled full-time or part-time based on the specifications of the institution
· Alumni within 3 years graduation date -
For example: If the student graduated on May 6, 2017, he or she would be eligible until May 6, 2020
· Recent high school graduates with a letter of intent to attend a qualifying institution
· High school seniors who can provide an anticipated graduation date based on fulfilling all requirements for graduation
· College internship and trade school apprenticeship participants or medical residents
To be eligible, program participants must have attended their institutions (or will attend again) between May 1, 2015 and January 2, 2019. If you qualify and would like to take part in this program, please come by Fred Martin today! All you need to do is make sure you bring your proof of eligibility with you. Here are some example documents (others may be accepted):
· Copy of diploma
· Copy of final transcript
· Letter from college/university, trade school, junior college, or community college Registrar's office stating confirmed graduation date and type of degree earned
· Dated letter of intent confirming enrollment (valid for no more than 6 months)
· Current class schedule
Ford Drives U is a fantastic rebate program that we've applied for many of our customers. They have walked away with a deal, a brand new vehicle, and a smile on their faces knowing that their hard work has earned them something great. Stop by Fred Martin today to let Ford reward you for your dedication. The future is bright and the Ford Motor Company can take you further!