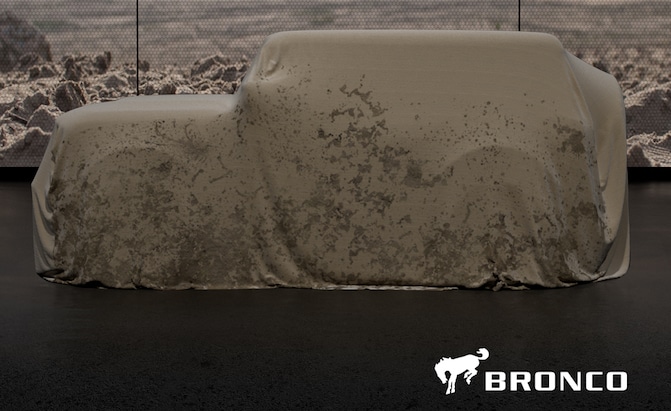 Everyone loves to take a sneak peek of something, whether it be a Christmas present on Christmas Eve or their favorite movie that's not due out until the next month. One can only imagine the excitement and anticipation that Ford customers may be feeling in regards to the all new Ford Bronco that's set to be released in 2020. Ford confirmed the return of the legendary off-road SUV at the Detroit Auto Show in 2017 and we expect the 2020 Bronco will make its big debut there in January of 2019. Ford has not yet released further details on the 2020 Bronco, merely one teaser image. We do know, however, that it will be based on the 2019 Ford Ranger that debuted earlier this year.
We can get a visual of the anticipated Ford Bronco based on the 2019 Ford Ranger. The last-generation Bronco was based on the F-150, but Ford product head Joe Hinrichs told us the 2020 will be based on the new Ranger. A proclaimed Ford designer on Reddit said that the Bronco will be similar to the Everest; a Ranger-based SUV sold in other markets. The Ford Bronco is expected to have more than enough room for your everyday rodeo. "Size-wise, he said we can expect something smaller than the original Bronco but bigger than the 1980s Bronco II."
There shouldn't be any issue riding in this Bronco. One can expect a smooth ride with just enough kick for the road. "We wouldn't be surprised if Ford's new Bronco shares engine and transmission offerings with the Ranger since they'll share a platform. For the US market, the new Ranger gets a 2.3-liter turbocharged four-cylinder derived from the Focus RS. Ford hasn't released detailed specs for the Ranger's engine, but it has confirmed that it'll be equipped with a 10-speed automatic. Ford did, however, confirm in its 2018 Q1 earnings call that the Bronco will get a hybrid drivetrain of some sort." In regards to price, Ford always aims for luxury in both looks and an affordable pricing! "The Bronco's base price should be around $30,000 which is about the same as a 2018 Wrangler Unlimited. It's not yet confirmed, but we'd be shocked if the 2020 Bronco didn't debut at next year's Detroit Auto Show."
From all the information and few freebies we've gathered, it's safe to say the Ford Bronco WON'T disappoint! As we all wait in excitement, continue to do your research and spread the word! Ford is working on a lot of different iconic pieces to come. We have a bright future ahead of us with innovative designs and creations from the Ford Motor Company. Expect the best and get ready to go further!