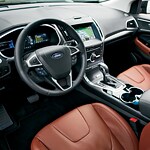 Ford Edge leads the midsize SUV category for many reasons, its suite of trend-forward tech features being one. The list of features goes on and on. Each feature is exciting and unique. Take the following two features that our team at Fred Martin Ford Inc. selected.
Automatic Parking

Forget struggling to park perfectly in tight parallel spots or, even worse, reverse perpendicular spots. Ford Edge's Enhanced Active Park Assist parks the Edge perfectly every single time. You only have to activate, shift, accelerate and brake as Edge does all of the rest.
Automatic High Beam Headlamps

?Ford Edge takes the distraction out of driving, toggling between full-on high beams in low visibility or at night. The same feature dims the high beams automatically whenever oncoming traffic approaches, letting you keep your eyes on the road in Youngstown or during long commutes and extended road adventures. To see these and other Ford Edge tech features for yourself, pop into our dealership today for a fun, informative test drive.